Issues Affecting Potential Coating
Damage
Depending on the location and current as well as prior uses of the facility in which the floor is located, there may be any number of issues involved with base concrete slab. Environment can have substantial effects on the surface – causing have cracks and seams that need to be addressed before coating.
Prior use may also have caused damage to the extent that coatings shouldn't be applied, as in areas where large portion of the slab were poured improperly. Many issues can be handled with epoxy/resin-based patching materials. However, every case must be addressed independently. All slabs are NOT the same.
Moisture Vapor Transmission
Moisture vapor transmission in within the slab can be a significant problem. A simple (calcium chloride) test can be administered prior to application in order to determine sufficient tolerances according to the manufacturer's specifications for a proper coating. If a calcium chloride test demonstrates high vapor transmission, then an epoxy concrete vapor control primer must be used.
However, while uncommon, a vapor transmission rate reading can be so high that an epoxy concrete vapor control primer may prove insufficient thus requiring additional assessment or potential floor covering alternatives considerations.
Why Epoxy Coating Works with Animal Care Facilities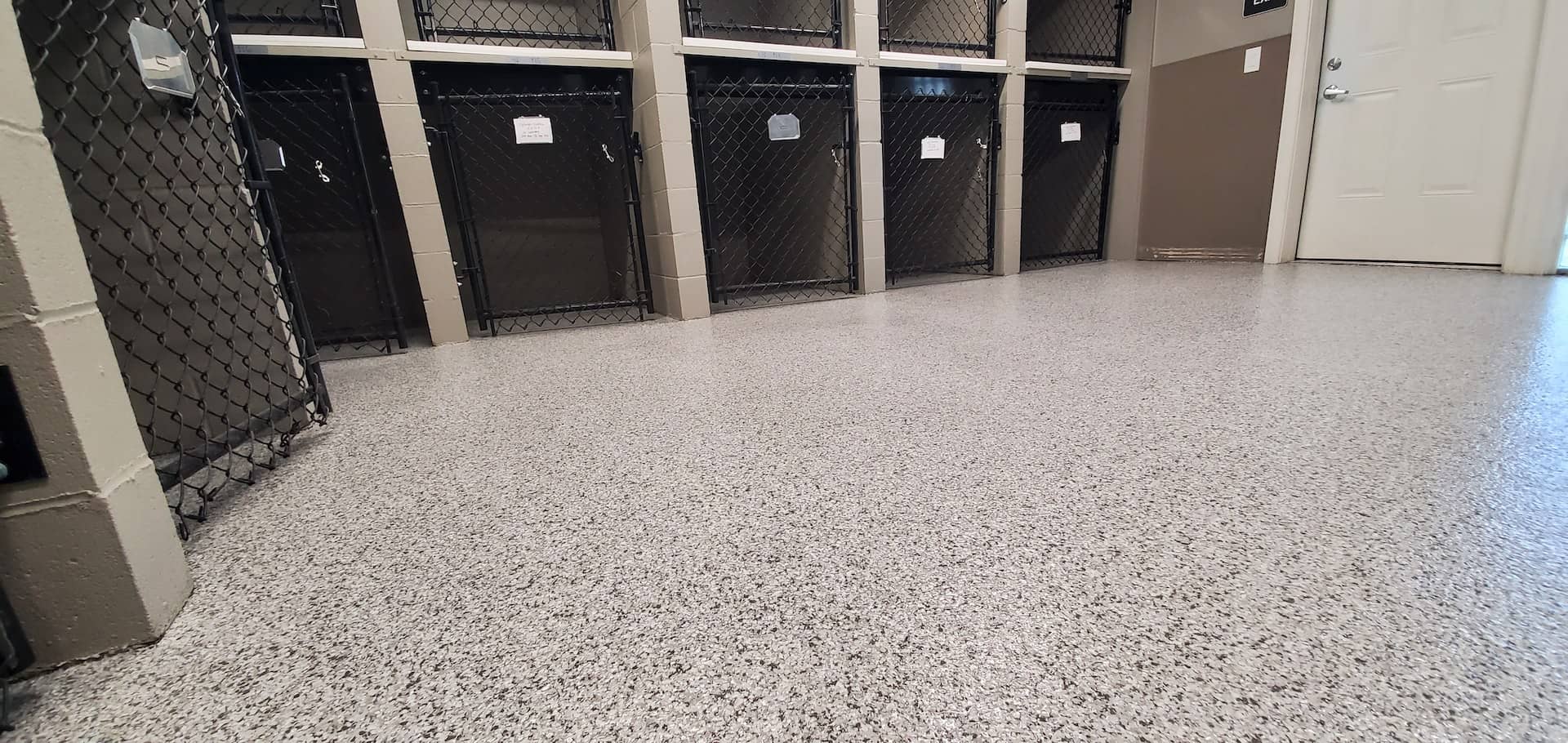 The issues with facilities that have only a bare concrete slab are numerous.  
Absorbency – concrete slabs are porous and absorb everything from water to contaminants that spilled and been absorbed into the slab. Everything from animal feed to urine and feces can be absorbed and provide a place for bacteria to survive and grow.
That can lead to odors as well as the transmission of disease or viruses that can wreak havoc with your facility.  Overwhelming, unpleasant odors may result because of insufficient care by your staff.  
Additionally, bare slabs may result in slippery floors that don't provide good footing for animals and their human tenders as well.